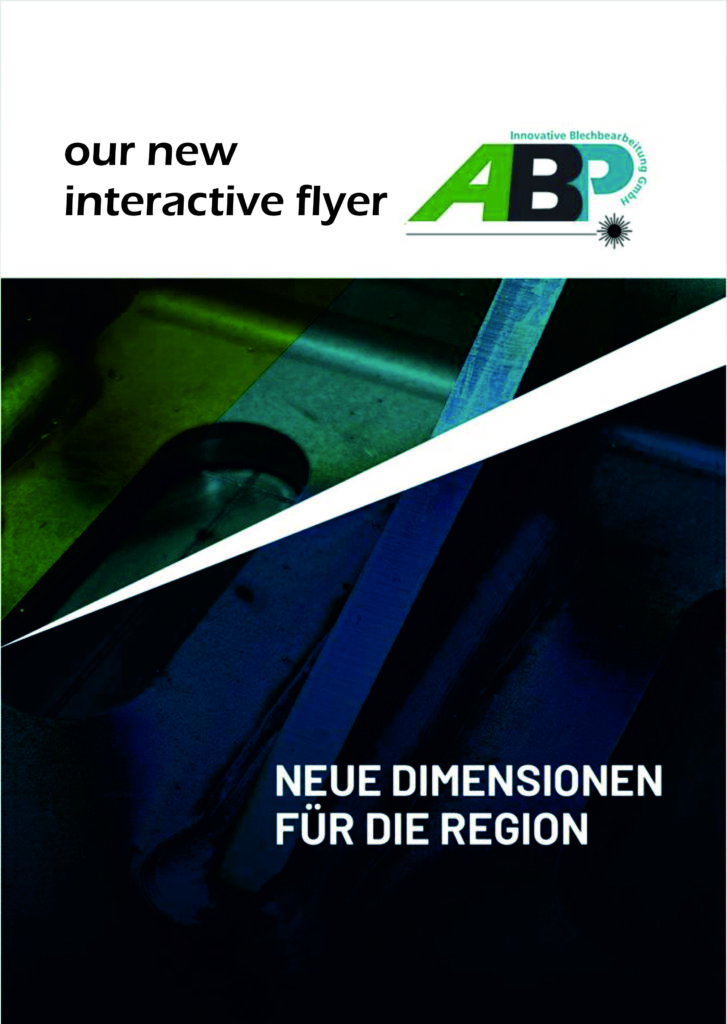 About us: ABP – Innovative Sheet Metal Processing GmbH
With our modern machines and well-trained personnel ABP – Innovative Blechbearbeitung GmbH sets new standards in Germany and beyond. Many of our customers ask us about the abbreviation in our company name. What does ABP stand for? One of the many things to consider when starting a company is the name itself. Since we primarily act as a contract manufacturer, our name should be at the top of the list in industry directories and Internet search results in order to be found as quickly as possible. How is that accomplished? Simple! Applying the principle of alphabetical sorting, it was clear the first two letters should be represented by an A & a B. However, that alone did not satisfy us. In the first drafts of the company logo the remaining letters of the alphabet were considered. AB and P appeared particularly fluid and our logo took its shape. At this point, there had been no thought at all given to the meaning! It was clear that every abbreviation stands for something and that sooner or later clarification would be needed. Who has an abbreviation in their name and does not know the meaning? Here too, a solution needed to be constructed. "Manufacturing contractors like us make a living on speed and flexibility, amongst other things." That was our approach. And it was considering that approach that brought the remedy! Our name is meant to express all that we stand for. We are fast, flexible and customer-oriented! The customer receives an offer as soon as possible, we are rewarded with an order and without further ado, we start with the production. ABP – Angebot, Bestellung, Produktion (English: Offer, Order, Production)…fast, flexible and customer-oriented!
Why us?
✓

Our location – your benefit

The Schopsdorf site is strategically located directly on the A2 freeway. Schopsdorf is in Sachsen-Anhalt on the state border with Brandenburg. Hot-dip galvanizers and powder coaters are located in the immediate vicinity. Transport routes are therefore short and convenient.
✓

We offer you individual advice

ABP sees itself not only as a producer, but also as a service provider. We are active in consulting and rely on the latest technologies in developing individual customer solutions.
✓

With us you get everything from a single source

We are able to offer our customers the entire chain of sheet metal processing. We also rely on strong cooperation with partners from the immediate region. The combination of our manufacturing possibilities with consistently innovative thinking builds your advantage. Quality, flexibility and individuality characterize our mission statement. We are your partner for your products.
Manufacturing
Modern machines and well-trained personnel are essential for a young company such as ABP – Innovative Blechbearbeitung GmbH. Our machines and skills are geared towards our customers. Take advantage of our manufacturing ability and innovative thinking!
Let us convice you of our services!